Turn your mobile device into a musical washboard! You can play the classic metal washboard as is, or customize it by dragging and dropping additional instruments like horns, bells and woodblocks. You can even add decorations like a flower, a sticker or party lights. Play along with your iPod music, or plug into an amp and join a jug band!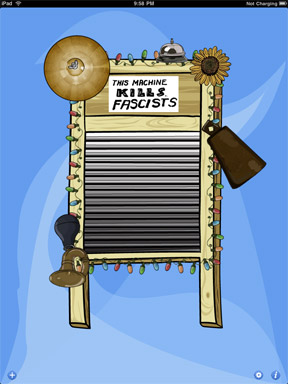 Follow these steps to get started:
Play basic washboard sounds: You can get three different sounds by tapping the metal part of the washboard, scrubbing the metal part, or tapping the wooden panel above the metal part.
Add more instruments: Tap the + button to show a window of additional instruments you can use. Drag and drop instruments onto the wooden frame of the washboard, move them around into the desired arrangement, then tap the X button to close the window and lock your arrangement.
Add decorations: Tap + again and swipe to the right to see some decorations you can add to your board. These don't make any sound, they're just for fun. Then tap X to lock your arrangement again.
Revise your setup: To remove or rearrange your instruments and decorations, press + to unlock your arrangement. To remove something from the board, just drag it off and let go.
Or try these ideas for more advanced use:
Test your rhythm skills: Switch to the Music app on your device and start some music playing. Then switch back to the Washboard app and see how well you can play along.
Send MIDI note messages: If you have a MIDI sound module, you can use the Washboard app as a MIDI controller. Tap the settings button, turn on the MIDI option, then customize the note numbers associated with each instrument on your washboard. (The MIDI commands are sent on channel 10 for easy access to most percussion modules.) Now you can play virtually any sound from the Washboard interface.